Avon Campaign 13 2015 Backorder
You can still place your Avon Campaign 13 2015 backorder until
Wednesday, June 3rd, 2015
. Browse the brochures below, pick he items you wish to order (by item number) and
Click Here!
to enter your order. The order form will open in a new window so you can refer back to the brochure. You will have to select which campaign the item number is from to get the correct price. Thank you for shopping my Avon website.
Note: The "Order Form" and "Add to Order" buttons will not work. You must visit Avon's Website to place your order.
Buy Avon Online C13 2015
Campaign 13 is Here!
Buy Avon Online C13 2015 – How often do 100% of women tested actually agree? Well it happened! Avon always has their products tested. 100% of women tested agreed they showed improvement in texture, uneven tone and overall fine wrinkles with Anew Ultimate. Ultimate was already the #1 anti-aging regimen. The new Ultimate has Celluvive Complex. This product is for those who have multiple signs of aging. It is for hydration and upon using skin feels moisturized and looks better. You can use the product on the back on your hand if you want to see an immediate difference. Ultimate minimizes the look of fine lines AND deep wrinkles. As we age our skin loses flexibility. Ultimate restores natural volume and makes skin feel more resilient. As a bonus, the new Ultimate also improves discoloration, firms and lifts the appearance of sagging skin. Do you know anyone who doesn't want a tighter feeling face? So in short, it's like the power of 10 in a jar. It provides:
Smooth Texture
Skin Clarity
Even Skin Tone
Fine Lines & Deep Wrinkles Diminished
Moisturization
Natural Volume
Resilence
Improved Discoloration
Firmness
Lifted Skin

The best just got better. Would you like to compare our prices? How about the closest competitor to this product?
Lancome Absolute Precious Cells Repairing and Rejuvenating Eye Cream .7 oz $117.

Our Ultimate Eye System .5 oz $36

.
Lancome Absolute Precious Cells Repairing and Recovering Night Cream 1.7 oz $182.00.

Avon's Ultimate Night Cream 1.7 oz $38

.
Lancome Absolute Precious Cells Broad Spectrum 1.6 oz SPF 15 $182.00.

Avon's Ultimate day Cream Broad Spectrum SPF 25 1.7 oz $38

.
Remember to 1) Cleanse, 2) Use treatments for specific concerns, 3) Moisturize and 4) Use eye treatment; and if it's evening you can follow this with the new hydrating mask.
The concerns that Ultimate is for can be found in those in their 40's and 50's and beyond. Sometimes even younger. Someone who is an avid sunbather, for instance, may need Ultimate in their 30's.
Almost forgot the very best part. You can purchase the new Ultimate in C13 for a special price of $24.99. What? You want an even better price. Ok. How about Purchase any 2 mix or match for $40? My work here is done.
Fashion Updates

Check out the Grommet Detail Tunic
These tops are in right now. While shopping, I have seen a number of them. It's like sleight of hand. Make one side longer so the view is out of balance. It makes you look a little thinner. Have washed it a couple of times and the color is still bright. It's Rayon and spandex. Only $24.99, I haven't tried the shades the model is wearing but they are cool lookin'. View Details »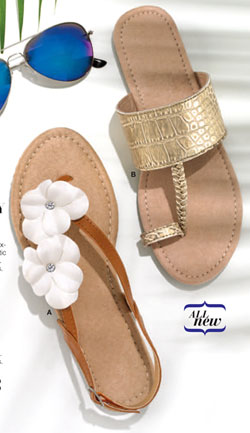 Need some flats to go with that?
I have both of these. They are both really comfortable. The Floral Flat Sandal has the elastic strap for easy on and off. This on is only $16.99. Avon calls it a flirty sandal. Perhaps it is, I just call it pretty.
The Spice Market Toe-Loop Sandal is gold with faux-suede footbed. It's really comfy and another pretty sandal. Now On Sale at $14.99, will be $19.99.
Do you like to dress up for the holidays? The Fourth of July is coming and then, Memorial Day. If you need some Red, White and Blue – then . . .
Fragrance – I promised an announcement and here it is . . .
The newest of the Today, Tomorrow and Always is here . . .


Avon Amour Fragrance – The bottles in this series have not yet disappointed. They are beautiful. This one is no exception. The fragrance is a blend of citrus, jasmine petals and elegant musk. And since it is about love, they are all on sale! So we will love them even more. Today, Tomorrow and Forever are $30 each. Amour is on Sale for $20. When you purchase Amour, you can purchase Today, Tomorrow or Forever for only $15.
Best deal of the book!
Avon Skin So Soft Shower Gels in 3 fragrances Reg. $6.00, Lowest Price Ever $1.69
Don't forget to
Sign Up
for a free account and receive our Newsletters and promotions. Get advance notice of Avon exclusive sales and FREE SHIPPING offers delivered straight to your inbox.
Get FREE SHIPPING anytime on any direct delivery purchase over $60.00. No coupon code required.
Offer does not apply to express shipping methods and is valid only for shipping addresses in the contiguous United States. Alaska and Hawaii addresses are subject to additional surcharges. Please note, Avon does not ship Internationally or to the Islands.