Shop Avon Campaign 15 Brochure
Everyday Savings! Use code FS30REP to get FREE SHIPPING! on any order over $30.00
The word for Summer is Blue. 
Blue Escape for Her
(left), sensuality of sparkling blue lotus, pear, nectar, tropical driftwood and sultry musk. 
Blue Escape for Him
, temptation of fresh ocean mist, white pepper, tropical driftwood and sensual musk.  Individually, each fragrance will sell for $22.50; but in Campaign 15, this fragrance comes in a 3 piece collection which includes a full size fragrance for only $23.  Check Avon's new fragrance out and get some freebies.
Check out the all new
Blue Goddess Dress
, only $19.99!
Save $10 on this
Big Ring Handbag
, only $14.99. This unique handbag comes in pink, bronze and BLUE, of course.
This
Sequin Trim Tunic
(hand wash) comes in sizes small to 3X and is BLUE.
Blue moods in turquoise. 
Beaded Escape Toe Loop Sandal
will be regularly priced at $24, now Only $19.99.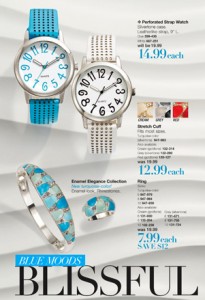 Blissful in Blue. 
Perforated Strap Watch
$14.99 each Enamel Elegance Collection previously available in cream and grey, now also in TURQUOISE $7.00 each.  Really pretty in person.
Beaded Baubles Statement Necklace
comes in white or BLUE, Only $16.99 each.
Have you tried the new fashion craze? 
Nail Art Design Strips
(left).  They are selling like mad.  Goes on in minutes – no polish remover, no polish all over your fingers – let me know what you think.Lowest Price Ever for
Glimmersticks
(right).  Eye liners including waterproof, lip liners and brow definers all $2.99 regularly $7.  STOCK UP ALERT.
Reinvent your game with Chris Paul, gold medalist, basketball champion and founder of the CP3 Foundation. Check out his fragrance; 
Untouchable
, the exhilaration of greens, grapefruit and pepper pumped with fresh lavender and earthy moss.  $26.  Comes in matching deodorant body spray, hair and body wash and after shave conditioner.
Do you Anew?  If you do, it's true, Avon has a great sale for you.  Buy 1 get 1 for $12 on most Anew Facial Products (right, Rejuvenate shown) or buy 1 get 1 for $5 on
Anew Rejuvenate
.  Check it out. Got wrinkles? Crow's-feet?  Have specific facial concerns?
Anew Clinical
Facial Products (left) is just for you.
Need a new look for summer? Put together an ensemble with these dresses, shoes and handbags.
Ruched-Front Dress
(left) is on sale for $19.99, the
Ruffle Maxi Dress
(center) is only $29.99 and the
Drape Escape Dress
(right) in also on sale for $19.99.