Avon has some great deals this spring on Avon Beauty Products and summer accessories. With deals on makeup, skin care products, perfumes and handbags Avon has can handle your fashion and beauty needs this summer!
It time to start shopping for new summer clothes. Our Brushstroke Top is only $19.99 for all sizes. Sizes up to 3X on this one. Nice bright colors to celebrate the thaw as we say good bye to the cold months. If you need a purse, the Floral Dream Handbag is summer ready and only $19.99 (Will be $29.99 after the intro special). Matching Floral Wedge is $34.99.
If the Wedge is too much for you, there are several styles of sandals all on special for $16.99.
Anybody like the animal print look? The Animal Print Tunic up to 3X, all sizes $24.99. Accessorize with Jeweltastic Wedge Sandal and Faceted Geometric Collection on special this brochure.
Need bags for those summer trips? All 4 for $19.99 will be $39.99. Buy now and save $20. Comes with roll duffle, tote, duffle and cross body.
Sequins are back. Everybody wanted some of these last year. Comes in pink, blue and organge. Size 5 to 10. Slip-on's are great for around the water. These happen to be really pretty as well. Only $7.99 each.
Want a pair of nice flop-flops and some ankle bracelets but don't want to pay $22 for them. Great, then get them now! Only $12.99 for the set.
Still looking for the perfect fragrance for Father's Day? Untouchable contains grapefruit and pepper pumped with fresh lavender and earthy moss. Buy the Eau de Toilette Spray now and get the Deodorant Body Spray FREE.
Father's Day is June 16th. Avon has a huge selection of Father's Day ideas in this brochure. I really like the sandals. They are practical, stylish and comfortable. Sizes 9 to 13. $24.99
Want something a little different to light up those summer nights. Check out our Glittery Finish Gliimersticks. Comes in Moonlight Brown, Starlight Blue, Blackened Night, Galactic Green, and Purple Haze. Neat, retractable eye liners. Will be $7. Intro Special $2.99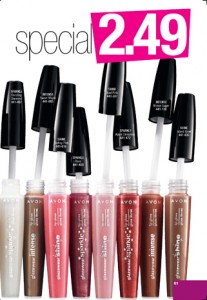 Glazewear Lip Gloss is still on SALE for $2.49. If you missed it last time, stock up now.
Pressed and Loose Powder are on sale $7.99 each, regular price $10.00. Save Now.
Yes Paul Abdul is in this brochure too. This time she comes with two of the shoes from Avon's Forever Collection that everyone wants on SALE.